PONO Choices, Sexuality Curriculum in Hawaii
Pono Choices. In the Hawaiian language the word "pono" means "the right way" or "doing what is right," but parents have informed appropriate officials that this curriculum is not "right" for their children.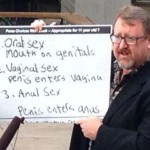 Shown in the photograph is Representative Bob McDermott of Ewa Beach, Hawaii, displaying a reproduction of a chart from Pono Choices, Hawaii's highly controversial sex education curriculum used with 11-, 12-, and 13-year-olds in public middle schools.
As a legislator and parent, he is outraged that the state Department of Education refused to release a copy of the taxpayer-funded, almost-ten-hour sexuality training already experienced by some 1,700 public middle school students.
On December 16th, 2:00 p.m., Mr. McDermott requested a copy of the teacher's guide, curriculum guide/overview, student work book and other materials to be delivered to his office by December 17th.
However, at 3:24 p.m. this response was sent: "We are not releasing the curriculum or associated materials to anyone who has not gone through the Pono Choices training. However, we can arrange for a time to meet so that you can review the curriculum and associated materials. Please get back to us and let us know if you would like to arrange a time to meet."
To read the rest of this newsletter in PDF format, please click here.
At 4:13 p.m. Mr. McDermott responded: "The DOE refused my request and sent me to you. Now you refuse my request….I DEMAND you provide me the taxpayer funded materials requested below so I may review them as a legislator and parent of public school children.
"This is my job. I have sat on the State House Education Committee for six years in my prior stint at the legislature. I am a former College Instructor who holds an MBA and BA. If an 11 year old child (part of your target audience) can figure it out, perhaps I can too. This response is absolutely unacceptable."
Senate Minority Leader Sam Slom R-Hawaii Kai-Diamond Head, explained, "We made a formal request as representatives of the people to get information, which is funded by the taxpayers. It was denied. A government that hides public information is antithetical to democracy. Particularly now when we have our state government and state administration talking so much about transparency. There is a total lack of transparency here."
[UPDATE. The curricula WILL be sent to Mr. McDermott. He will analyze it and forward a comprehensive report for us to use in Georgia.]